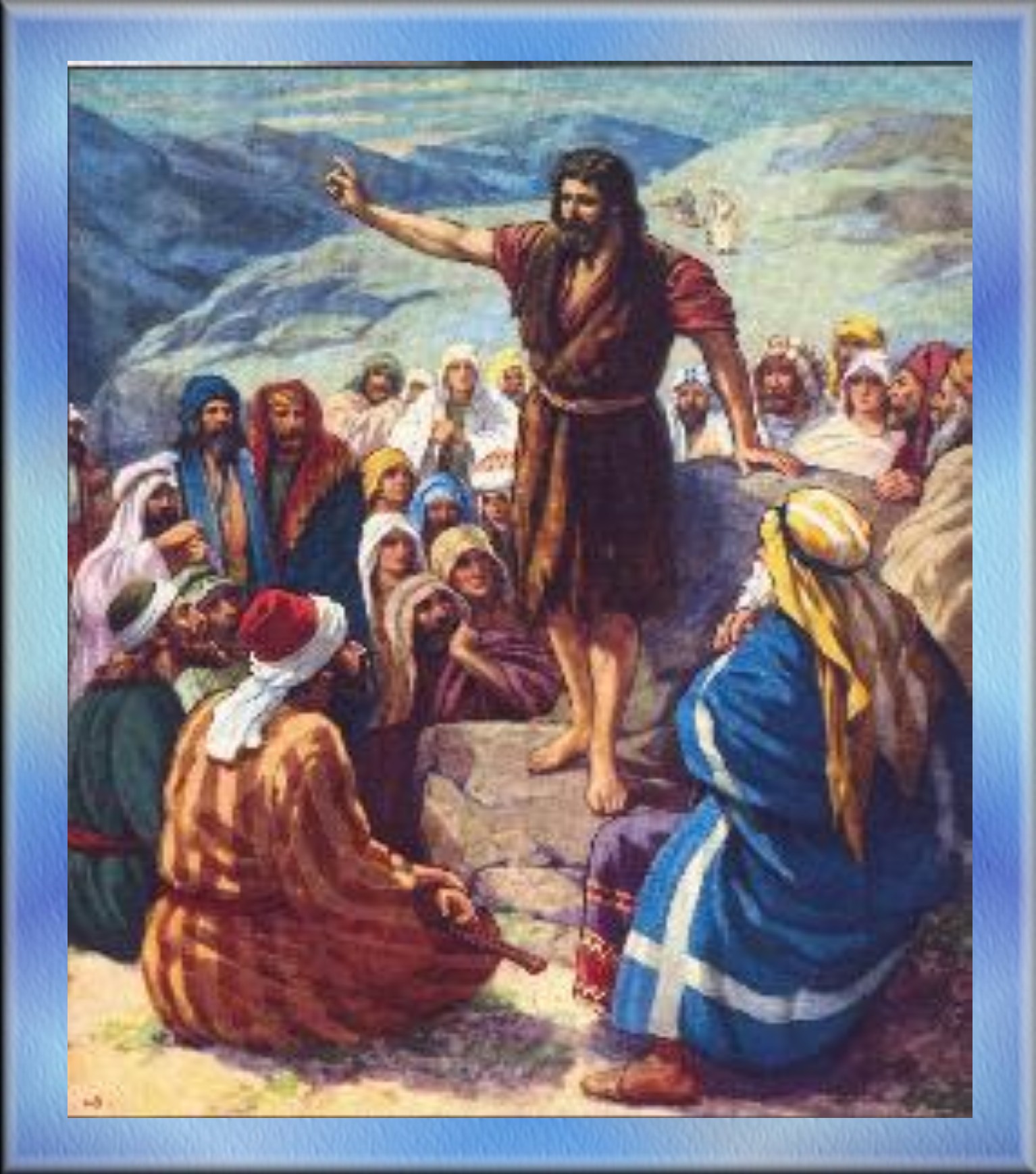 The Call to Repent
Enoch was an active worker for God. He did not seek ease and comfort. Nor did he spend his time in idle meditation or in striving to gain happiness for himself. He did not participate in the festivities and amusements constantly engaging the attention of the pleasure lovers of the antediluvian world. In his day the minds of many were absorbed in worldly pleasures—pleasures that tempted them to go astray. But Enoch was terribly in earnest. He did not idly saunter along the streets or linger near places of amusement as if he were an indifferent worldling. He never engaged in common conversation with those who were corrupt, as if he were one of them. With the sinful and with the workers of iniquity he mingled only as God's messenger, to warn them to turn with abhorrence from their evil ways and to repent and seek God.
Enoch lived an active, zealous life of self-denial. He walked with God in a world so corrupt that the Lord afterward destroyed it by the Flood. And he walked with the ungodly as one among them, not as one of them, but as one whose purposes and works and hopes were based not only on time, but on eternity. He did not give the worldly-wise any reason to question his profession and his faith. By earnest words and decided actions he showed that he was separate from the world. After periods of retirement he would mingle with the ungodly to exhort them to abhor the evil and to choose the good. As a faithful worker for God he sought to save them. He warned the world. He preached faith in Christ, the Saviour of sinners, the sinner's only hope.
CTr 48
-------------------------------
As the days of Noe were, so shall also the coming of the Son of man be. Matthew 24:37.
Noah preached to the people of his time that God would give them one hundred and twenty years in which to repent of their sins and find refuge in the ark, but they refused the gracious invitation. Abundant time was given them to turn from their sins, overcome their bad habits, and develop righteous characters. But inclination to sin, though weak at first with many, strengthened through repeated indulgence and hurried them on to irretrievable ruin. The merciful warning of God was rejected with sneers, with mockery and derision; and they were left in darkness to follow the course that their sinful hearts had chosen. But their unbelief did not hinder the predicted event. It came, and great was the wrath of God which was seen in the general ruin.
These words of Christ should sink into the hearts of all who believe present truth: "And take heed to yourselves, lest at any time your hearts be overcharged with surfeiting, and drunkenness, and cares of this life, and so that day come upon you unawares." Our danger is presented before us by Christ Himself. He knew the perils we should meet in these last days, and would have us prepare for them. . . .
Belief in the near coming of the Son of man in the clouds of heaven will not cause the true Christian to become neglectful and careless of the ordinary business of life. The waiting ones who look for the soon appearing of Christ will not be idle, but diligent in business. Their work will not be done carelessly and dishonestly, but with fidelity, promptness, and thoroughness.
LHU 365
---------------------------------------------
So men who should be standing as faithful guardians of God's law have argued, till policy has taken the place of faithfulness, and sin is allowed to go unreproved. When will the voice of faithful rebuke be heard once more in the church?
"Thou art the man." 2 Samuel 12:7. Words as unmistakably plain as these spoken by Nathan to David are seldom heard in the pulpits of today, seldom seen in the public press. If they were not so rare, we should see more of the power of God revealed among men. The Lord's messengers should not complain that their efforts are without fruit until they repent of their own love of approbation and their desire to please men, which leads them to suppress truth.
Those ministers who are men pleasers, who cry, Peace, peace, when God has not spoken peace, might well humble their hearts before God, asking pardon for their insincerity and their lack of moral courage. It is not from love for their neighbor that they smooth down the message entrusted to them, but because they are self-indulgent and ease-loving. True love seeks first the honor of God and the salvation of souls. Those who have this love will not evade the truth to save themselves from the unpleasant results of plain speaking. When souls are in peril, God's ministers will not consider self, but will speak the word given them to speak, refusing to excuse or palliate evil.
PK 141
-----------------------------------------------
Let none refuse to be reproved for evil, nor charge the servants of God with being too zealous in endeavoring to cleanse the camp from evil-doing. A sin-hating God calls upon those who claim to keep His law to depart from all iniquity. A neglect to repent and to render willing obedience will bring upon men and women today as serious consequences as came upon ancient Israel. There is a limit beyond which the judgments of Jehovah can no longer be delayed. The desolation of Jerusalem in the days of Jeremiah is a solemn warning to modern Israel, that the counsels and admonitions given them through chosen instrumentalities cannot be disregarded with impunity.
Jeremiah's message to priests and people aroused the antagonism of many. With boisterous denunciation they cried out, "Why hast thou prophesied in the name of the Lord, saying, This house shall be like Shiloh, and this city shall be desolate without an inhabitant? And all the people were gathered against Jeremiah in the house of the Lord." Jeremiah 26:9. Priests, false prophets, and people turned in wrath upon him who would not speak to them smooth things or prophesy deceit. Thus was the message of God despised, and His servant threatened with death.
PK 416-417
--------------------------------------------
"Thus saith the Lord, Let not the wise man glory in his wisdom, neither let the mighty man glory in his might, let not the rich man glory in his riches: but let him that glorieth glory in this, that he understandeth and knoweth Me." Jeremiah 9:23, 24. . . . Let us seek to follow the counsel of God in all things; for He is infinite in wisdom. Though we have come short of doing what we might have done for our youth and children in the past, let us now repent, and redeem the time. 1896.
CT 46
----------------------------------------
Why, Paul reasoned, should it seem incredible that Christ should rise from the dead? Once it had thus seemed to him, but how could he disbelieve that which he himself had seen and heard? At the gate of Damascus he had verily looked upon the crucified and risen Christ, the same who had walked the streets of Jerusalem, died on Calvary, broken the bands of death, and ascended to heaven. As verily as had Cephas, James, John, or any others of the disciples, he had seen and talked with Him. The Voice had bidden him proclaim the gospel of a risen Saviour, and how could he disobey? In Damascus, in Jerusalem, throughout all Judea, and in the regions afar off, he had borne witness of Jesus the Crucified, showing all classes "that they should repent and turn to God, and do works meet for repentance.
"For these causes," the apostle declared, "the Jews caught me in the temple, and went about to kill me. Having therefore obtained help of God, I continue unto this day, witnessing both to small and great, saying none other things than those which the prophets and Moses did say should come: that Christ should suffer, and that He should be the first that should rise from the dead, and should show light unto the people, and to the Gentiles."
AA 436-437
----------------------------------------
Early in the history of the church the mystery of iniquity foretold by the apostle Paul began its baleful work; and as the false teachers concerning whom Peter had warned the believers, urged their heresies, many were ensnared by false doctrines. Some faltered under trial and were tempted to give up the faith. At the time when John was given this revelation, many had lost their first love of gospel truth. But in His mercy God did not leave the church to continue in a backslidden state. In a message of infinite tenderness He revealed His love for them and His desire that they should make sure work for eternity. "Remember," He pleaded, "from whence thou art fallen, and repent, and do the first works." Verse 5.
The church was defective and in need of stern reproof and chastisement, and John was inspired to record messages of warning and reproof and entreaty to those who, losing sight of the fundamental principles of the gospel, should imperil their hope of salvation. But always the words of rebuke that God finds it necessary to send are spoken in tender love and with the promise of peace to every penitent believer. "Behold, I stand at the door, and knock," the Lord declares; "if any man hear My voice, and open the door, I will come in to him, and will sup with him, and he with Me." Revelation 3:20.
And for those who in the midst of conflict should maintain their faith in God, the prophet was given the words of commendation and promise: "I know thy works: behold, I have set before thee an open door, and no man can shut it: for thou hast a little strength, and hast kept My word, and hast not denied My name." "Because thou hast kept the word of My patience, I also will keep thee from the hour of temptation, which shall come upon all the world, to try them that dwell upon the earth."
AA 587
---------------------------------------
Repent, repent, was the message rung out by John the Baptist in the wilderness. Christ's message to the people was, "Except ye repent, ye shall all likewise perish." Luke 13:5. And the apostles were commanded to preach everywhere that men should repent.
The Lord desires His servants today to preach the old gospel doctrine, sorrow for sin, repentance, and confession. We want old-fashioned sermons, old-fashioned customs, old-fashioned fathers and mothers in Israel. The sinner must be labored for, perseveringly, earnestly, wisely, until he shall see that he is a transgressor of God's law, and shall exercise repentance toward God and faith toward the Lord Jesus Christ.
Comforting, Powerful Preaching.
You should have a clear apprehension of the gospel. The religious life is not one of gloom and of sadness but of peace and joy coupled with Christlike dignity and holy solemnity.
Ev 179