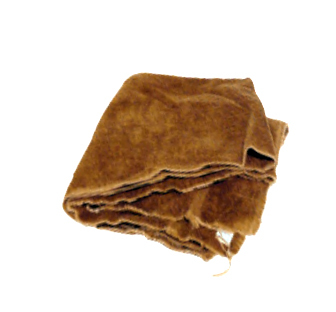 The Brown Towel
One who has nothing can give nothing," said Mrs. Sayers, the sexton's wife, as the ladies of the sewing society were busily engaged in packing the contents of a large box, destined for a Western missionary.
"A person who has nothing to give must be poor, indeed," said Mrs. Bell, as she deposited a pair of warm blankets in the already well-filled box.
Mrs. Sayers looked at Mrs. Bell with a glance, which seemed to say, "You who have never known self-denial cannot feel for me," and remarked, "You surely think one can be too poor to give?"
"I once thought so, but have learned from experience that no better investment can be made, even from the depths of poverty, than giving to the Lord." Seeing the ladies listening attentively to the conversation, Mrs. Bell continued: "Perhaps, as our work is finished, I can do no better than to give you my experience on the subject.
"During the first twenty-eight years of my life, I was surrounded with wealth; and not until I had been married nine years did I know a want which money could not satisfy or feel the necessity of exertion. Reverses came with fearful suddenness, and before I had recovered from the blow, I found myself the wife of a poor man, with five little children dependent upon our exertions.
"From that hour I lost all thought of anything but the care of my family. Late hours and hard work were my portion, and to my unskilled hands it seemed at first a bitter lot. My husband strove anxiously to gain subsistence, and barely succeeded
"Everything seemed against us. Our well-stocked wardrobe had become so exhausted that I felt justified in absenting myself from the house of God, with my children, for want of suitable apparel. While in this low condition, I went to church one evening, when my poverty-stricken appearance would escape notice, and took my seat near the door. An agent from the West preached, and begged contributions to the home missionary cause.
"I tried in vain to sleep that night. The words of the text, 'Give, and it shall be given unto you; good measure, pressed down, and shaken together, and running over, shall men give into your bosom,' seemed continually sounding in my ears. The eloquent entreaty of the speaker to all, however poor, to give a mite to the Lord, and receive the promised blessing, seemed addressed to me. I rose early the next morning, and looked over all my worldly goods in search of something worth bestowing, but in vain; the promised blessing seemed beyond my reach.
"Hearing that the ladies of the church had filled a box for the missionary's family, I made one more effort to spare something. All was poor and threadbare. What should I do? At last I thought of my towels. I had six, of course brown linen, but little worn. They seemed a scanty supply for a family of seven; and yet I took one from the number, and, putting it into my pocket, hastened to the house where the box was kept, and quietly slipped it in. I returned home with a light heart, feeling that my Saviour's eye had seen my sacrifice, and would bless my effort.
"From that day success attended all my husband's efforts in business. In a few months our means increased so that we were able to attend church and send our children to Sabbath-school, and before ten years had passed, our former prosperity had returned fourfold."
"Well," exclaimed Mrs. Sayers, "if we all had such a self-denying spirit, we might fill another box at once. I will never again think that I am too poor to give."
Unknown