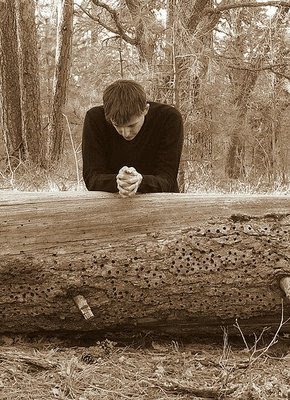 Like The Time Of Jacob's
Trouble
A decree will finally be issued against those who hallow the Sabbath of the fourth commandment, denouncing them as deserving of the severest punishment, and giving the people liberty, after a certain time, to put them to death. Romanism in the Old World, and apostate Protestantism in the New, will pursue a similar course toward those who honor all the divine precepts. The people of God will then be plunged into those scenes of affliction and distress described by the prophet as the time of Jacob's trouble.--
To human sight it will appear that the people of God must soon seal their testimony with their blood, as did the martyrs before them. They themselves begin to fear that the Lord has left them to fall by the hand of their enemies. It is a time of fearful agony. Day and night they cry unto God for deliverance. . . . Like Jacob, all are wrestling with God. Their countenances express their internal struggle. Paleness sits upon every face. Yet they cease not their earnest intercession.
Jacob's experience during that night of wrestling and anguish represents the trial through which the people of God must pass just before Christ's second coming. The prophet Jeremiah, in holy vision looking down to this time, said, "We have heard a voice of trembling, of fear, and not of peace. . . . All faces are turned into paleness. Alas! for that day is great, so that none is like it: it is even the time of Jacob's trouble; but he shall be saved out of it" (Jeremiah 30:5-7).--
The Righteous Have No
Concealed Wrongs to Reveal
In the time of trouble, if the people of God had unconfessed sins to appear before them while tortured with fear and anguish, they would be overwhelmed; despair would cut off their faith, and they could not have confidence to plead with God for deliverance. But while they have a deep sense of their unworthiness, they have no concealed wrongs to reveal. Their sins have gone beforehand to judgment, and have been blotted out; and they cannot bring them to remembrance.
God's people . . . will have a deep sense of their shortcomings, and as they review their lives their hopes will sink. But remembering the greatness of God's mercy, and their own sincere repentance, they will plead His promises made through Christ to helpless, repenting sinners. Their faith will not fail because their prayers are not immediately answered. They will lay hold of the strength of God, as Jacob laid hold of the Angel, and the language of their souls will be, "I will not let Thee go, except Thou bless me."
The Saints Will Not Lose Their Lives
God would not suffer the wicked to destroy those who were expecting translation, and who would not bow to the decree of the beast or receive his mark. I saw that if the wicked were permitted to slay the saints, Satan and all his evil host, and all who hate God, would be gratified. And oh, what a triumph it would be for his satanic majesty, to have power, in the last closing struggle, over those who had so long waited to behold Him whom they loved! Those who have mocked at the idea of the saints' going up will witness the care of God for His people, and behold their glorious deliverance.
The people of God will not be free from suffering; but while persecuted and distressed, while they endure privation, and suffer for want of food, they will not be left to perish.
If the blood of Christ's faithful witnesses were shed at this time, it would not, like the blood of the martyrs, be as seed sown to yield a harvest for God.
LDE 261-264