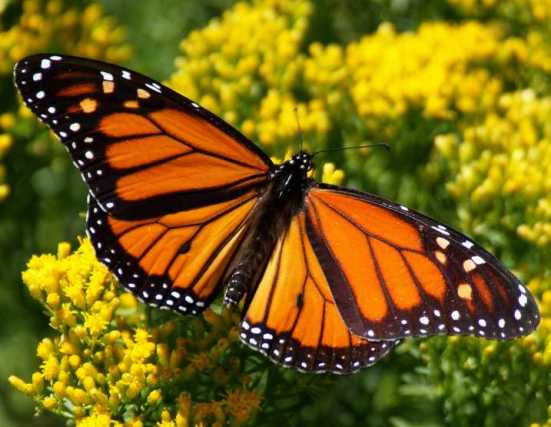 The Monarchs
I was walking and meditating, wanting the Lord to speak to my heart. I had something in mind, and as I was thinking about that, a little butterfly flitted right before me, and I watched as it passed. As I continued to walk, another one went by me and then another, and another, and another. It was then I noticed that these were Monarch butterflies.
We have all seen butterflies. They are one of the phenomena of God's creation that is very interesting to observe. How does a butterfly get to be a butterfly? It goes through stages, does it not? Butterflies lay eggs, the eggs hatch into caterpillars, and eventually the caterpillar goes into a state of unconsciousness, in a cocoon, and comes forth in a matter of weeks, a beautiful butterfly.
This process has been compared to the Christian life; a wonderful illustration from God's creation. The Monarch butterfly is all of these things, and this is what I saw in the field. They were flitting their little wings in the air, and they were going against the wind. It was September, and they were heading south.
Nature books tell me that in the springtime, April to June, the Monarchs are making their way from the south to the north. But during the month of September, you will see these lovely creatures, that God has created, winging their way south—destination, Mexico.
Lessons from the Butterfly
As I watched these marvelous little creations, the Lord began to speak to my heart. I want to share with you some lessons from the Monarch butterfly, lessons that God spoke to my heart. I have eight lessons to share with you, and then we are going to look at the parallels in the Christian life.
1. As I watched, I was impressed with something. These butterflies had a purpose, a goal, that they were fulfilling, and they were not allowing anything to stop them. They had one purpose. They were going south. They had a goal to reach their destination.
2. As I looked at these butterflies, however, I realized how far they had to travel. Here they were in Kansas. I do not know how far they traveled from the north to Kansas, but I know that from Kansas down to Mexico is still a considerable distance.
3. As I looked at these butterflies, I noted that they were very fragile. Have you ever looked at a butterfly up close? Have you ever seen them fly in the wind and against the wind? They are so fragile it seems impossible that they would ever reach their destination or fulfill their goal.
4. Then I noticed there were little yellow butterflies down on the ground. They were cute, like a little child is cute. And like a little child, these butterflies were playing. They were playing with the wind gusts. But they were staying down real low to the ground, while the Monarch butterflies were on their mission. They were fulfilling their purpose and continuing to fly, while the little butterflies on the ground just frolicked around, playing with one another.
5. As I continued to walk, I saw one of the Monarch butterflies stop and land on the ground, almost as if it was resting. But it did not linger on the ground very long. It rested, but it did not linger.
6. Another thing impressed me as I watched the Monarch butterflies. There are big trees that grow by the river near where I was walking, and they were headed right to those trees. Some of them were flying and flapping their wings very hard to get over and above those trees. They saw the obstacle in the way, and they were going to do something about it. It was not stopping them. Those trees did not stop the Monarchs and cause them to turn around and go back north. No, they flew over them, or they flew right through them.
7. I was impressed by their determination. As it flapped its wings and the breeze came and blew it a little bit off-course, it continued to flap and fly in a southerly direction. Nothing deterred it. Why? Because it had its destination in view. It knew where it was going. It knew which direction to go, and it was going that direction. I asked myself, what gives this little creation, this fragile little piece of paper, as it were, flapping in the wind, the ability to do what it is doing? The only answer was that the Creator had put something inside that butterfly that made it do what it was doing.
8. Do you know that the Monarch butterfly is the only butterfly, out of all the hundreds or thousands of butterflies in this world today, that makes a bird-like migration north to south and south to north every year? They are the only butterflies that do this. They are an elect group of butterflies.
Parallels in the Christian Walk
Do you see any parallels? Well, let us look at them from the Word of God. The Monarch has a determined purpose to fulfill its goal. Its goal is its destination. Our goal is also a destination, but before we reach that goal there is something else.
Look at what Paul says: "That I may know Him, and the power of His resurrection, and the fellowship of His sufferings, being made conformable unto His death; If by any means I might attain unto the resurrection of the dead. Not as though I had already attained, either were already perfect: but I follow after, if that I may apprehend that for which also I am apprehended of Christ Jesus. Brethren, I count not myself to have apprehended: but this one thing I do, forgetting those things which are behind, and reaching forth unto those things which are before, I press toward the mark for the prize of the high calling of God in Christ Jesus." Philippians 3:10–14.
A Determined Purpose
Did Paul have a determined purpose in mind in his Christian experience? Brothers and sisters, that man was determined! What moved Paul? It was the love of God in Christ Jesus. What is moving you? Or are you moving? Are you pressing toward the mark, or are you stagnating in one place, only looking at the mark, only thinking about it, only desiring it? That is not enough.
We must be in the air, going in the direction of the goal, or we are going to fail of the destination. Paul was in the air. He says, I have not attained, but I am on my way. Are we on our way? Or are we just thinking about the way?
It must be a very sad thing for Jesus Christ to look down upon His professed people on this earth today and see so many doing nothing—thinking about everything that they want to do, everything they want to be, yet doing nothing—being satisfied to merely frolic upon the earth, to stay in the lowlands, as it were, instead of soaring to the high places where they can reach the current of heaven and be directed to their destination.
We are satisfied with too little, and many of us will be saddened in that day to find the gates closed. I write to you who are old enough to understand the reality of the unseen.
Life's Impossibilities
God loves each one of us more than we can ever comprehend. Do you remember, as I looked at the Monarch butterfly, I saw the impossibilities. I said, There is no way that this two-winged piece of paper is going to make it to Mexico. It is too fragile. It is too weak.
But Paul said, "For ye see your calling, brethren, how that not many wise men after the flesh, not many mighty, not many noble, are called: But God hath chosen the foolish things of the world to confound the wise; and God hath chosen the weak things of the world to confound the things which are mighty; . . . That no flesh should glory in His presence." I Corinthians 1:26–29.
Brothers and sisters, what you see in me and what you see in one another is total weakness and total foolishness. But God, working in all of us, to will and to do of His good pleasure, can help us reach the destination. To the world it looks like foolishness. To the world it looks like weakness, but to us it is the power of God unto salvation!
The true Christian, no matter how foolish, no matter how weak he looks to the world, is going to reach his destination. The one who has a purpose and a goal in mind and who is determined to reach it, is going to reach his goal, just as surely as that Monarch. He is going to be there. And someday, at the second resurrection, the world will stand amazed. They are there! They made it! We could have, too.
Frolicking and Fun
Remember as I walked along I saw the Monarchs soaring, flying on toward their destination, and yet, what was playing near the ground? Some little butterflies. They were frolicking with one another, having fun, enjoying one another. They were having a good time close to the earth.
God has called us, the true and faithful, to something far greater than mere earthly pleasures. Ephesians 5:1–7 says, "Be ye therefore followers of God, as dear children; And walk in love, as Christ also hath loved us, and hath given Himself for us an offering and a sacrifice to God for a sweet smelling savor. But fornication, and all uncleanness, or covetousness, let it not be once named among you, as becometh saints; Neither filthiness, nor foolish talking, nor jesting, which are not convenient: but rather giving of thanks. For this ye know, that no whoremonger, nor unclean person, nor covetous man, who is an idolater, hath any inheritance in the kingdom of Christ and of God. Let no man deceive you with vain words: for because of these things cometh the wrath of God upon the children of disobedience. Be not ye therefore partakers with them."
Paul said, I want you to be distinct. If we have the goal that God has set before us in Christ Jesus in our minds, we will be distinct from this world. We will not be frolicking in the pleasures of this world. We will not be satisfied with the things of this world. Our minds are somewhere else. Our minds are upon the destination to which God has called us.
We will be different from the world. We will act differently. We will talk differently. We will think differently. We will dress differently. We will be different, as different as is the Monarch butterfly, flying above those little yellow butterflies on the ground. Distinctly different.
We are not called to linger. Remember the Monarch butterfly. I do not know how long it had flown, but all of a sudden it lights on the ground and rests, but it has its mind set to take off again. It knows where it is going, and it is going to fulfill the goal. It rests, but it does not linger.
There is an experience found in the Bible that should be a warning to each one of us who profess the name of Jesus Christ. It is the experience of Ananias and Saphira. You see, Ananias and Saphira took off in the right direction in their Christian experience. They knew where they were headed; they had their goal in view. (See Acts 5.)
But they happened to linger at a rest stop too long. The temptation came, and they lingered upon temptation. Have you ever lingered where temptation is? When you linger with temptation, you will eventually sin. When that happens, we lose all the rest that we can have in Jesus Christ, because Jesus, ". . . wilt keep him in perfect peace" [or perfect rest], whose mind is stayed on Thee." Isaiah 26:3.
When we linger with temptation, our minds are not on Christ. I know. I have been there. Each one of us has. Ananias and Saphira were tempted in regard to a pledge they made to give the proceeds from the sale of some property to God's church. They sold the property, but they determined between themselves to hold back a certain amount. (See Acts 5:1–11.)
We know the story. Ananias and Saphira not only lost their physical lives, but they also lost eternal life. They will never reach the destination. Why? They yielded to temptation. There is no compromise with God.
God has made provision for us to reach our destination, and when we stop and linger and allow ourselves to be tempted into sin, we lose sight of our goal. We have lost the peace, the rest, and the vision. We have lost everything—just like Ananias and Saphira. But we may not know it right now.
God is Wearied with His People
Some day the professed people of God, who are not making their calling and election sure, will find out that they have short-circuited the power of God in their lives, and they have a form of godliness that is naked of the power of God. It is going to be one sad day. We talk about celebration today. There is no celebrating in heaven for what heaven sees today among God's people.
I speak not only denominationally; I speak historically. God is wearied with the sins of His people. He is saddened with the lingering attitude of His people. There is no compromise with salvation. Look at Calvary. There is no compromise there, none! God is calling us to something higher than a frolic amid the pleasures of this earth.
Surmounting the Obstacles
Let us look at another parallel. Oh, that Jesus may be uplifted that we may catch a glimpse of the great reality and the great destination to which He has called us! Remember what the Monarchs did as the obstacle of the forest loomed up before them.
Some of them flapped a little harder, moved a little higher, and went over the trees. Some of them made their way through the trees. But the point is, the Monarch butterflies did not let anything stop them on their journey.
Paul says, "For I am persuaded, that neither death, nor life, nor angels, nor principalities, nor powers, nor things present, nor things to come, Nor height, nor depth, nor any other creature, shall be able to separate us from the love of God, which is in Christ Jesus our Lord." Romans 8:38, 39. Is that not marvelous? Are you in that love? Are you in that reality?
When you know Jesus Christ as it is your privilege to know Him, nothing will stop you from serving Him. You will surmount everything by His love.
Keeping the Vision
The next parallel from God's creation, the God Who redeems us, is found in Proverbs 29:18. "Where there is no vision, the people perish: but he that keepeth the law, happy is he." As I saw the Monarchs flying, they seemed to constantly keep in view their destination. It seemed as though they actually knew where they were going, and they kept it in view.
Where there is no vision, the people perish. That means not only as a people, as a church, but also as individuals. When we lose the vision of our destination to which He has called us, even the city of God, there comes a lack. There is a short circuit somewhere in our experience, and we begin to take a downward trend instead of an upward trend in our experience.
I think all of us have had that experience at one time or another. Some of us may be experiencing it even now. We need to be constantly reminded, through the Word of God, through meditation, through prayer with Him, of our destination. We have to keep it in view.
Let us look at some people who did keep it in mind. Hebrews 11:13–16 says, "These all died in faith, not having received the promises, but having seen them afar off, and were persuaded of them, and embraced them, and confessed that they were strangers and pilgrims on the earth. For they that say such things declare plainly that they seek a country. And truly, if they had been mindful of that country from whence they came out, they might have had opportunity to have returned. But now they desire a better country, that is, an heavenly: wherefore God is not ashamed to be called their God: for He hath prepared for them a city."
I am going to be there. I am determined to be there, by the grace of God. I do not just want to see it from afar. I am going to walk through the gates someday, by His grace. By His grace, each one of us can have that experience. I do not care who you are, you can have that experience, because He has made a way to give us everything. We must keep our destination in view.
A Determined Desire
As I looked at the Monarchs I thought, This is impossible. These two pieces of paper flying in the wind. It is impossible for them to reach such a destination so far away. And I came to a conclusion that what makes the Christian move, makes the Monarch move and vice versa. "Wherefore, my beloved, as ye have always obeyed, not as in my presence only, but now much more in my absence, work out your own salvation with fear and trembling. For it is God which worketh in you both to will and to do of His good pleasure." Philippians 2:12, 13.
When you open your heart heavenward in faith, God is able to put in there a determined desire to do His will. When you and I take a step to fulfill that desire, as we open our hearts to Him, He puts power into our hearts to walk with Him. That is the Christian walk.
Just as surely as the butterfly has the ability to go all the way from the north to the south, hundreds of miles, flapping in the breeze, against every obstacle, God can put in your heart the ability to do the impossible.
One of the Elect
After I went home, I read about the Monarch Butterfly, and I found that it is the only butterfly, of all of the hundreds of thousands that God has created on this earth, that makes bird-like migrations every year. I realize that I am dealing with a butterfly that is, can I use the term, elect?
"And except those days should be shortened, there should no flesh be saved: but for the elect's sake those days shall be shortened." Matthew 24:22. "For there shall arise false Christs, and false prophets, and shall show great signs and wonders; insomuch that if it were possible, they shall deceive the very elect." Verse 24. "And He shall send His angels with a great sound of a trumpet, and they shall gather together His elect from the four winds, from one end of the heaven to the other." Verse 31.
God calls His chosen, His elect. Do you know why they are the elect of God? One reason is that they are walking in all the light that God has revealed upon their pathway. If you walk in all the light, you are the elect. If you walk in all the light, that means that you are making your calling and election sure, and that is what God wants.
He is looking for an elect. Are you willing to soar? Are you willing to soar above the earth? God is looking for you. Are you willing to keep the destination in view, and to fulfill the goal at whatever cost? God is looking for you.
God has made some wonderful promises to these Monarchs, as it were, on the earth. "And I will bring forth a seed out of Jacob, and out of Judah an inheritor of My mountains: and Mine elect shall inherit it, and My servants shall dwell there." Isaiah 65:9.
There was a being who at one time dwelt in the mountains described here, the mountains surrounding the temple of God in heaven, but he is not there any more, because he chose to walk outside the light. God's elect are someday going to walk the mountains that Satan once walked.
"They shall not build, and another inhabit; they shall not plant, and another eat: for as the days of a tree are the days of My people, and Mine elect shall long enjoy the work of their hands." Verse 22. Eternity stands before us, if we walk with Jesus Christ.
Eternity is a long time to enjoy the works of your hands. It is something not to ignore, and it is something for which to give up everything. Jesus described it. He said, If you have to pluck out the eye, it is better that the eye should go than the whole body should die. (See Matthew 5:29.) If you had gangrene on your hand, and the doctor said that in a matter of months your whole body is going to be dead unless that hand is cut off, does it make sense to cut off the hand?
I want the heart of the Monarch butterfly.
"Wherefore also it is contained in the Scripture, Behold, I lay in Zion a chief corner stone, elect, precious: and he that believeth on Him shall not be confounded. Unto you therefore which believe He is precious: but unto them which be disobedient, the stone which the builders disallowed, the same is made the head of the corner, and a stone of stumbling, and a rock of offense, even to them which stumble at the word being disobedient: whereunto also they were appointed." I Peter 2:6.
Monarch of the Monarchs
Jesus is not only called the Chief Cornerstone, but He is called the elect. May I say, He is the Elect of the elect? And I say this reverently, He is the Monarch of the Monarchs. Webster's dictionary, on the word Monarch, says, "A hereditary sovereign as a king, queen or emperor. A person or things that hold a dominant position. A large, reddish brown butterfly having black and white markings."
God is trying to tell us something. When you reach your destination as one of God's elect, what is it going to be like? What will He call us to when we reach our destination? "And from Jesus Christ, who is the faithful witness, and the first begotten of the dead, and the Prince of the kings of the earth. Unto Him that loved us, and washed us from our sins in His own blood, And hath made us kings and priests unto God and His Father; to Him be glory and dominion forever and ever. Amen." Revelation 1:5, 6.
Is He the Monarch of the Monarchs? Yes, He is the King of kings, and the elect of God are going to be kings and queens someday. God has positions for us in mind. Are we keeping it all in mind? It is in His mind and for it to become a reality, it must be in our minds.
Paul says, in Philippians 2:5, "Let this mind be in you which was also in Christ Jesus." If you and I want to fly like the Monarch, we must possess the mind of the Monarch. And He is willing and able to give it to us if we are willing and obedient to receive it.

How can we understand God? How are we to know our Father? We are to call Him by the endearing name of Father. And how are we to know Him and the power of His love? It is through diligent search of the Scriptures. We cannot appreciate God unless we take into our souls the great plan of redemption. We want to know all about these grand problems of the soul, of the redemption of the fallen race. It is a wonderful thing that after man had violated the law of God and separated himself from God, was divorced, as it were, from God—that after all this there was a plan made whereby man should not perish, but that he should have everlasting life.
After the transgression of Adam in Eden it was Christ whom God gave to us, not that we might be saved in our sins, but that we might be saved from our sins, that we should return to our loyalty to God and become obedient children. As we yield our minds, our souls, our bodies, and our all to the controlling Spirit of God, it is then that the Spirit of truth is with us and we can become intelligent in regard to this great plan of redemption.
It is true that God gave His only begotten Son to die for us, to suffer the penalty of the [broken] law of God. We are to consider this and dwell upon it. And when our minds are constantly dwelling upon the matchless love of God to the fallen race, we begin to know God, to become acquainted with Him, to have a knowledge of God, and of how Jesus Christ, when He came to our world, laid aside His royal robes and His kingly crown and clothed His divinity with humanity. For our sakes He became poor that we through His poverty might be made rich. The Father sent His Son here, and right here on this little atom of a world were enacted the grandest scenes that were ever known to humanity.
All the universe of heaven was looking on with intense interest. Why? The great battle was to be fought between the power of darkness and the Prince of light. Satan's work was to magnify his power constantly. Where was his power? He claimed to be the prince of the world and he exercised his power over the inhabitants of the world. Satan's power was exercised in such a masterly manner that they would not acknowledge God. Satan wanted that the children of men should get such an idea of his wonderful work that they would talk of his masterly power. In doing this he was all the time placing God in a false light. He was presenting Him as a God of injustice, and not a God of mercy. He was constantly stirring up their minds so that they would have an incorrect view of God.
How was God to be rightly represented to the world? How was it to be known that He was a God of love, full of mercy, kindness, and pity? How was the world to know this? God sent His Son, and He was to represent to the world the character of God.
Satan has come right in and placed himself between God and man. It is his work to divert the human mind, and he throws his dark shadow right athwart our pathways, so that we cannot discern between God and the moral darkness and corruption and the mass of iniquity that is in our world. Then what are we going to do about the matter? Shall we let that darkness remain?—No. There is a power here for us that will bring in the light of heaven to our dark world. Christ has been in heaven and He will bring the light of heaven, drive back the darkness, and let the sunlight of His glory in. Then we shall see, amid the corruption and pollution and defilement, the light of heaven.
We must not give up at the defilement that is in the human race and ever keep that before the mind's eye. We must not look at that. What then are we to do? What is our work?—To behold 'what manner of love the Father hath bestowed upon us.' Do not let the blighting influences that are flooding the world be the picture that is before the mind, but hold up the purity and love of God. Do not hang in memory's hall pictures of all the corruption and iniquity that you can bundle together. No, do not do it. It discourages the mind. A discouraged man is good for nothing. Just get the mind off these dark pictures by talking of God's love, and you may hang memory's halls with the brightest pictures that you can imagine.
We want to keep the perfect Pattern before us. God was so good as to send a representation of Himself in His Son Jesus Christ, and we want to get the mind and heart to unfold and reach upward. Just as soon as Adam and Eve fell, their countenances fell at the sight of their miserableness. We may see our wretchedness, and we should pray that God will reveal our own hearts to us; but we should pray also that He will reveal Himself to us as a sin-pardoning Redeemer. Let yours be the prayer, Reveal Thyself to me, that in Thy matchless grace I may lay hold on the golden link, Christ, which has been let down from heaven to earth, that I may grasp it and be drawn upward.
Brethren, you have all seen on the bosom of the lake the beautiful white lily. How anxious we have been, how we have wished and worked, that we might get that blossom. No matter how much scum and debris and filth there is around it, yet that does not destroy our desire for the lily. We wonder how the lily can be so beautiful and white where there is so much filth. Well, there is a stem that strikes down to the golden sands beneath and gathers nothing but the purest substance that feeds the lily until it develops into the pure and spotless flower as we see it.
Should not this teach us a lesson? It ought to. It shows that although there is iniquity all around us we should not approach it. Do not talk of the iniquity and wickedness that are in the world, but elevate your minds and talk of your Saviour. When you see iniquity all around you it makes you all the more glad that He is your Saviour, and we are His children. Then, shall we look at the iniquity around us and dwell upon the dark side? You cannot cure it; then talk of something that is higher, better, and more noble. Talk of those things that will leave a good impression on the mind, and will lift every soul up out of this iniquity into the light beyond.
Now, we may go into a cellar and stay there and look around into its dark corners, and we can talk of the darkness and say, 'Oh, it is so dark here,' and keep talking about it. But will it make it any lighter? Oh no! What are you going to do? Come out of it; come out of the dark into the upper chamber where the light of God's countenance shines brightly.
You know our bodies are made up of the food assimilated. Now, it is the same with our minds. If we have a mind to dwell on the disagreeable things of life, it will not give us any hope, but we want to dwell on the cheery scenes of heaven. Says Paul, 'Our light affliction, which is but for a moment, worketh for us a far more exceeding and eternal weight of glory.' [II Corinthians 4:17.]
We want to have our minds on the encouraging things. We want to have our minds on the new country to which we are to be introduced. Our citizenship is not of this world, but it is above, and we want to consider what characters we should possess in order to become inhabitants of that better world and associates of the saints of God in heaven. . . ."
The Ellen G. White 1888 Materials, vol. 1, 74-77.