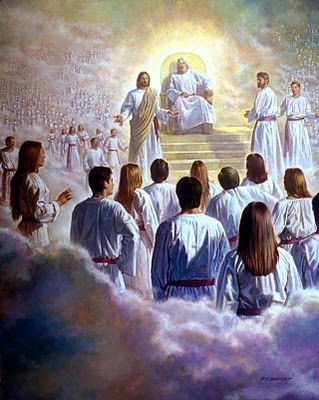 God Is Just,
As Well As Merciful
It is the glory of God to be merciful, full of forbearance, kindness, goodness, and truth. But the justice shown in punishing the sinner is as verily the glory of the Lord as is the manifestation of His mercy.
The Lord God of Israel is to execute judgment upon the gods of this world as upon the gods of Egypt. With fire and flood, plagues and earthquakes, He will spoil the whole land. Then His redeemed people will exalt His name and make it glorious in the earth. Shall not those who are living in the last remnant of this earth's history become intelligent in regard to God's lessons?
The One who has stood as our Intercessor; who hears all penitential prayers and confessions; who is represented with a rainbow, the symbol of grace and love, encircling His head, is soon to cease His work in the heavenly sanctuary. Grace and mercy will then descend from the throne, and justice will take their place. He for whom His people have looked will assume His right--the office of Supreme Judge.
In all the Bible, God is presented not only as a Being of mercy and benevolence, but as a God of strict and impartial justice.
The Certainty of God's Judgments
God's love is represented in our day as being of such a character as would forbid His destroying the sinner. Men reason from their own low standard of right and justice. "Thou thoughtest that I was altogether such an one as thyself" (Psalm 50:21). They measure God by themselves. They reason as to how they would act under the circumstances and decide God would do as they imagine they would do. . . .
In no kingdom or government is it left to the lawbreakers to say what punishment is to be executed against those who have broken the law. All we have, all the bounties of His grace which we possess, we owe to God. The aggravating character of sin against such a God cannot be estimated any more than the heavens can be measured with a span. God is a moral governor as well as a Father. He is the Lawgiver. He makes and executes His laws. Law that has no penalty is of no force.
The plea may be made that a loving Father would not see His children suffering the punishment of God by fire while He had the power to relieve them. But God would, for the good of His subjects and for their safety, punish the transgressor. God does not work on the plan of man. He can do infinite justice that man has no right to do before his fellow man. Noah would have displeased God to have drowned one of the scoffers and mockers that harassed him, but God drowned the vast world. Lot would have had no right to inflict punishment on his sons-in-law, but God would do it in strict justice.
Who will say God will not do what He says He will do?
LDE 240, 241